Non-Surgical Scalp Micropigmentation (SMP)
Scalp Micropigmentation is a non-invasive technique that uses a tiny needle to plant dots of ink into the skin, which imitates the look of hair follicles. It works by placing natural ink pigments via a microneedle at the epidermal level of the scalp, to realistically replicate the appearance of natural hair growth/density. This is a great procedure for those who want to see the benefits of a fuller-looking scalp without surgery. If you're more interested in a partial or full hair transplant, you can find more information here!
Add The Look of Density To Thinning Hair…Without Hair Transplants?
Described as being "almost pain-free" in that SMP only penetrates 2 layers of the epidermis while a traditional Tattoo penetrates 5 layers of the epidermis. Each procedure takes 2-5 hours depending on the extent of the bald or thinning area, with up to 3 sessions to achieve the look you want. According to studies conducted by the National Institute of Health, patients experienced a very high satisfaction level and visual improvement!
Scalp Micropigmentation Artists
We have two specialists on staff who complete the SMP procedures for My Hair MD patients. Both specialists have decades of hair tech and SMP experience and they enjoy helping patients find the right hair restoration solutions.
Scar Revision via SMP
My Hair MD specializes in scar revisions from either previous hair transplant surgeries or from other situations which have caused a scar on the head. We can typically camouflage the scar so that it blends in and is barely noticeable. We see many patients come to us who have had an FUT/Strip procedure done by another clinic but the Dr. didn't use a proper subcutaneous suture, which then causes tension on the surface of the skin and the scar then spreads. We are often able to either surgically remove the scar and replace it with another very fine scar, or we use SMP to camouflage it.
Here are some scar revision examples where we used SMP: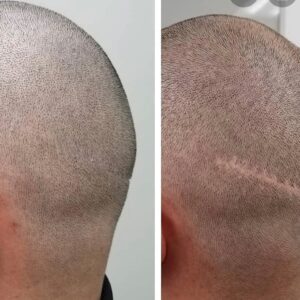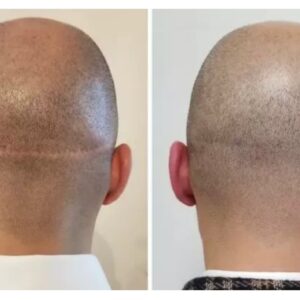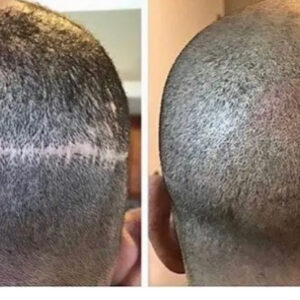 **Patient scars above were NOT created by our team.
SMP Frequently Asked Questions
How long does the procedure take?
Each procedure takes 2-5 hours depending on the extent of the bald or thinning area, with up
to 3 sessions to achieve the look you want.
How long does it take to see results?
SMP can be a great alternative, or complement, to a hair transplant. SMP results are immediate and produce the look of fuller hair.
Does it look real?
Absolutely. SMP blends in perfectly with thinning and bald areas of the scalp. You cannot tell that someone has had the SMP procedure even up close under scrutiny and blends perfectly into the surrounding hair.
Is SMP expensive?
Cost is at least 50% less than Hair Transplant Surgery. Call us or send us pictures of your trouble areas for a quote.
Is SMP a permanent procedure?
Scalp micropigmentation fades over time to a lighter version of the original look. Touch-ups are usually done if needed at the 6-year mark.
Can I use SMP to cover a scar on my head?
Yes. We often see patients who had the strip hair transplant procedure done, which left a linear scar on the back of their head, get SMP on the scar. This means that they can wear their hair short again without anyone seeing the scar. We've also had patients who have other types of scars covered up by SMP.