Eyebrow Hair Transplant San Diego
Your Eyebrows are an integral part of your face and really help with the way you emote or express feelings. Being that they are hair with follicles similar to the ones on your head, they are also susceptible to hair loss! Luckily, there's a solution. If your eyebrow hair is thinning or falling out, consider an eyebrow hair transplant to restore your natural look. Studies have shown follicular unit hair transplants are an effective treatment for eyebrow hair loss.
Restoring your eyebrow hair isn't just for cosmetic reasons, it's to help reinvigorate your confidence. You only feel your best when you're looking your best. The specialists at My Hair MD have years of expertise in administering hair transplants and are ready to give you the results you deserve! The first step is to meet with one of our doctors for a consultation. They will be able to diagnose the issue and provide you with a treatment plan that is best suited to you!
Eyebrow Hair Transplant Procedure Explained
If you've lost your eyebrows to disease, trauma, medical treatments, or aggressive plucking, we have a solution. The same techniques that can restore hair to the scalp can be adapted to restore the full, natural appearance of your eyebrows.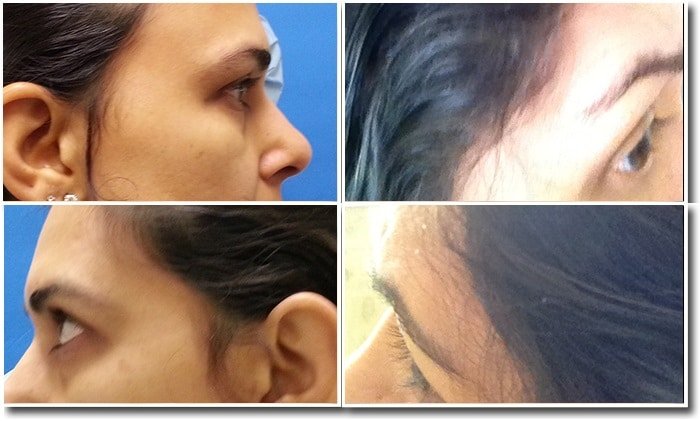 Under magnification, your doctor will make small incisions with a microneedle. The new hairs are placed into these sites. This stage is done very precisely, positioning the hairs so they grow in naturally. Hair can be added to either side of the eyebrow or throughout to add fullness. We have successfully completed this process with thousands of patients, achieving a remarkably natural look!
Over the next few months, the new hairs will shed (this is completely normal) and then regrow from the transplanted hair follicle. As the transplanted hairs grow into their new position, occasional trimming is required. We offer both FUE (Follicular Unit Extraction) and FUG (Standard Strip) methods of hair transplants. Speak with one of our specialists to determine which method will give you the best results!