Mini Follicular Unit Extraction Hair Transplant
What Happens in The Mini FUE-Session
This procedure is meant for people who don't require a full transplant, say for example, if you are just looking to fill in thinning areas or bare patches. People suffering from Alopecia Areata, causes round patches of hair to fall out leaving unsightly bare spots. This is a great example of when a mini follicular unit extraction could be the perfect solution. The process is much more discrete than the full procedures and requires almost no downtime to recover.
During a mini follicular unit extraction procedure a very small area on the back of the head, (approx. 1cm wide) is shaved in order to extract up to 400 Follicular Graft Units (as seen in the photo below). This small area is easily hidden under your existing hair after the session. The Follicular Graft Units are then re-Implanted in the desired area. After the session, you can return to your daily life immediately, yes, even the very next day.
Small sessions up to 400 FUE grafts. Ideal for touching up eyebrows, beard, sideburns, and hairline. No need to shave your entire head anymore. See the illustration below.
A Mini-Session is Ideal For People Who
Don't want to completely shave their head
Want their transplant to be unnoticeable
Prefer a gradual change in their appearance
Don't have a lot of time and need to return to work immediately
Want to do a test session before doing a full procedure
If you would prefer a more comprehensive treatment or require a full procedure, click here to learn more.
FUE Advantage
No Linear Scar
No Sutures/Staples
Fast Recovery
Minimum Discomfort
Ideal For Very Short Haircuts
Ideal For Donor Revision
We Always Give You More
Maximum Impact, by focusing on one or more zones, then transplant as much hair as possible into the trouble area to get the maximum impact and results in a single surgery.
Natural Looking Density, instead of minimum coverage where you must come back again and again, we deliver the maximum density that's safe for a "Natural Look".
Here's Why We Measure the trouble areas using a proprietary Hair Loss Template. This tool helps us determine how many Follicular Graft units and how many treatments will be needed to reach your Hair Restoration goals.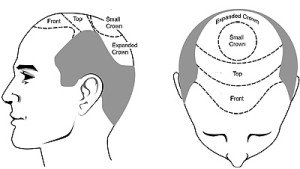 * Price Per Zone/Area is based on measuring the thinning or bald area to determine the number of square centimeters and desired density.
Our Grafts are 100% Natural. My Hair MD Restores your hair exactly as it grows which is in naturally occurring follicular units of 1, 2, 3, and 4 hairs at a time. This refined, microscopic process produces significantly better results… results so natural that, unless you tell, nobody may ever guess you had surgery.
Caution About Graft Splitting, the unscrupulous practice of splitting natural follicular graft units into "All Single Hair Grafts." Gives you a thin "see-thru" look and may result in little or no growth… My Hair MD does not split natural follicular units into all single hair grafts. We keep natural follicular units 100% natural and intact.